Dental Cleaning In Toronto, ON
During your dental hygiene appointment or at the end of your appointment, you probably remember the dental hygienist telling you to remember to brush and floss at least twice daily. This is great advice because proper oral care at home is the important part of maintaining your oral health. However, even with the best brushing and flossing technique, we still miss some areas of plaque build-up.
What Is A Dental Cleaning?
A dental cleaning is an essential part of good overall oral hygiene. It involves the removal of plaque build-up and tartar build-up from teeth and other hard to access areas, such as under the gums. Dental cleanings performed by a dental hygienist, but sometimes the dentist will perform the cleaning. Cleaning is achieved using an assortment of specialized dental tools. Your dental professional will perform an assessment of your oral health, and create a customized treatment plan tailored to your unique oral health needs.
Why are dental cleanings needed?
Dental cleanings are recommended at least two to three times a year. However, these requirements vary depending on your oral health. Regular dental hygiene visits help maintain oral health, and overall health to a smaller extent. Plaque build-up is sticky and causes dental decay if it is not removed regularly. Plaque that stays on the tooth for extended periods of time,hardens and is difficult to remove with floss and a toothbrush. Only a dental cleaning will remove hardened plaque effectively. Hardened plaque or tartar eventually causes bone loss if it is left untreated.
Dental hygiene visits contribute towards maintaining overall health also. Poor oral health is linked to heart disease, diabetes complications, and premature births. Bacteria found in the plaque may enter the bloodstream and become lodged in the arteries. Another reason why regular dental cleanings are vital to oral and overall health.
In addition to preventing dental decay and gum disease, dental cleanings reduce inflammation and swelling of the gums. Bleeding gums are also treated with dental hygiene cleanings and regular oral care at home.
Stain removal is another area where a dental cleaning helps. Patients with staining of the teeth due to external causes such as smoking, coffee, tea, or wine consumption will have surface stains removed during their dental visits. For patients with heavy staining, more than one dental hygiene visits will be necessary to remove all of the stains. Regular dental cleanings will prevent heavy accumulation of staining in the future.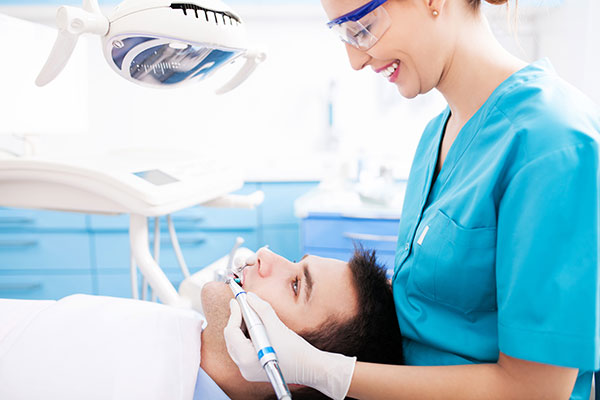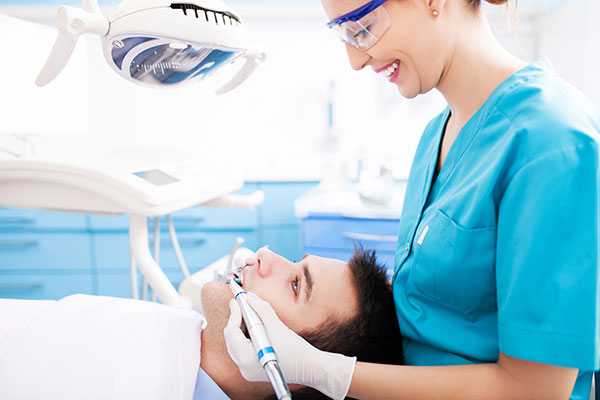 What to expect during a dental cleaning?
Your hygienist often starts the cleaning with an ultrasonic instrument to remove the bulk of the plaque and tartar build-up. The ultrasonic tool uses vibrations to break apart the buildup and uses water to wash away bacteria and build-up. Most of the stain is removed with this tool as well. The hygienist also uses manual instruments to access harder to reach areas and to remove stubborn build-up. Every surface of the tooth is cleaning in this way until all the teeth are cleaned. The final steps including polishing the teeth with a fine paste to remove any leftover stain and to give your teeth a smooth and clean feel. For some patients, fluoride treatment may be necessary if there is a history of dental decay or if the patient is at a higher risk of developing cavities.