When a child has tooth decay, because the baby tooth is smaller and the nerve and blood supply is quite large for the size of the tooth, the decay can often travel fast into the underlying structure of the tooth, including the nerve and blood supply. Once the decay enters the nerve of the tooth, there is no way to save the tooth without either extracting it or performing a form of root canal treatment and placing a crown on top. If one of these two options is not performed, the tooth will end up having an infection that can be painful to the child and potentially cause problems with the adult tooth underneath. 
Option 1: Extraction
When an extraction is performed, the baby tooth with the deep cavity is removed, and a space maintainer is placed. The space maintainer is used to hold the space for the adult tooth to have enough room to erupt when the time comes. Because adult teeth find their place by resorbing the roots of the baby teeth before them, sometimes the adult tooth may erupt slightly off course if the baby tooth is taken out premature. 
Option 2: Nerve treatment and stainless steel crown
Saving the baby tooth is the ideal solution to a large cavity. A filling is placed that removes all the decay, the nerve and blood supply is treated, and a stainless steel crown is placed on top. This gives the baby tooth more of a chance of staying in place until the adult tooth below is ready to erupt. Placing a crown instead of removing the tooth also allows for adequate function such as chewing and eating.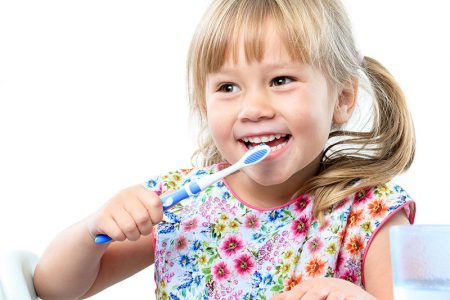 The first sign of a cavity is a stained or brown spot, usually between teeth or on the biting surface of a tooth, or a chip to a tooth. If you suspect your child may have a cavity, it is crucial to bring them into the dentist immediately, so it is not left to progress. If you have any questions about cavities, we encourage you to contact us today to schedule an appointment.