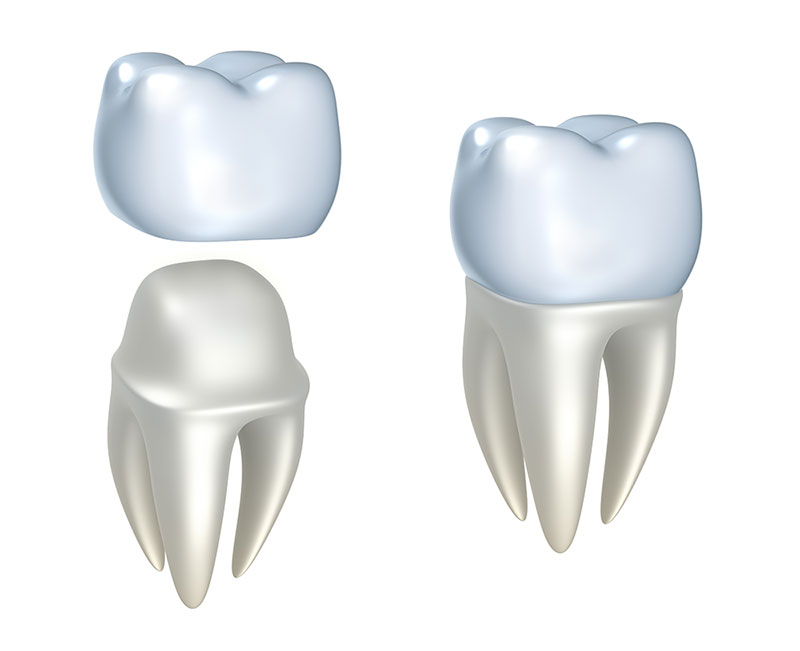 A dental crown is a hollow "cap" that is placed over a prepared tooth to restore the strength, function, and appearance of the tooth.
When are dental crowns needed?
After a root canal
A tooth that underwent root canal treatment is no longer living or vital. While this results in the tooth becoming more brittle and prone to breaking, a dental crown will preserve the strength of the tooth and prevent breakage.
Large fillings
Teeth with large fillings are weaker than a natural tooth. As a result, they are prone to breaking under the forces of chewing. However, a crown restores the strength of these compromised teeth.
Aesthetics
If you have broken, worn, decayed, misshapen or discolored teeth, dental crowns improve the appearance of your smile. However, other tooth replacement options exist as well.
Full mouth rehabilitation
Severely worn teeth due to grinding or erosion need extensive dental treatment. Opening up, or enlarging the bite and restoring the appearance and function of the teeth may require dental crowns to be placed on one, or more teeth.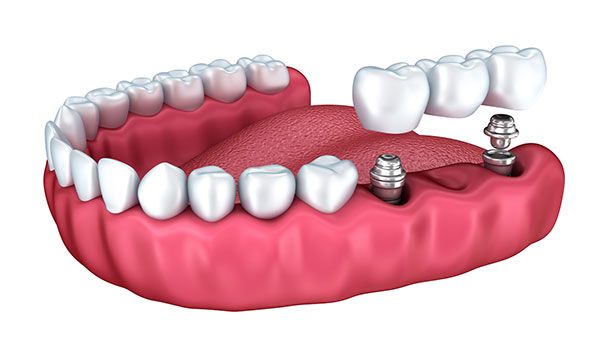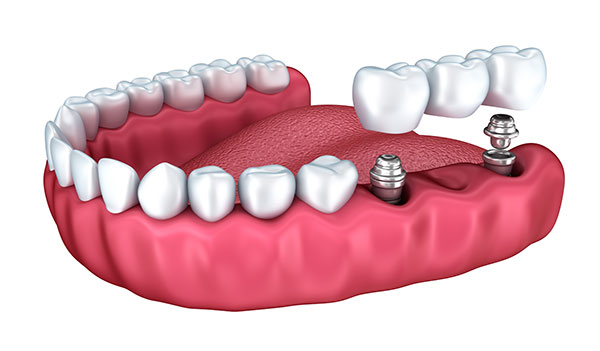 Dental bridge
A missing tooth that is replaced with a dental bridge, requires at least one dental crown. A dental crown covers the adjacent teeth on either side, and an artificial tooth fills in the space of the missing tooth.
Types of crowns: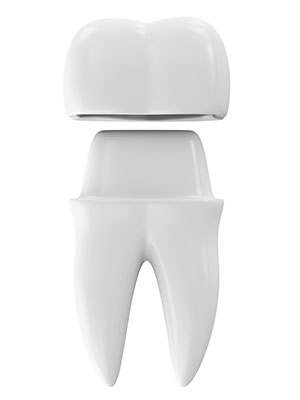 There are different types of crowns available for you and your dentist to choose from. Some materials that crowns are made of include: gold or other metal alloys, ceramic, composite resin, porcelain or porcelain-fused-to-metal. The location in the mouth, aesthetics and durability are considered when deciding on the best type of crown to use.
How is a dental crown done?
This procedure is done in two separate appointments, giving time for the fabrication of the permanent dental crown.
First visit:
The dentist freezes the area first (this may not be necessary if there was a root canal).
The tooth is shaved down to make room for the crown to fit over the top.
Impressions or a scan of the tooth are taken and sent to the laboratory that makes the dental crown
A temporary crown is made and cemented to the tooth.
Second visit:
The dentist checks the shape, size, and colour of the crown to ensure it fits your smile perfectly.
The temporary crown is removed, and the permanent crown is cemented.
The dentist checks your bite to ensure your new crown functions properly.
How to care for your dental crown:
Thorough daily brushing and flossing are necessary to maintain a healthy mouth. While a dental crown adds strength to a tooth, it is still susceptible to gum disease and decay if not kept clean. Avoid very abrasive or whitening toothpaste that can scratch the crown and cause it to lose its luster. Additionally, ensure that you have regular dental check-ups so your dentist can monitor the health and condition of your teeth and dental work.
If you have any further questions about dental crowns, call us today! We would be happy to answer your questions or book a consultation with a dentist.