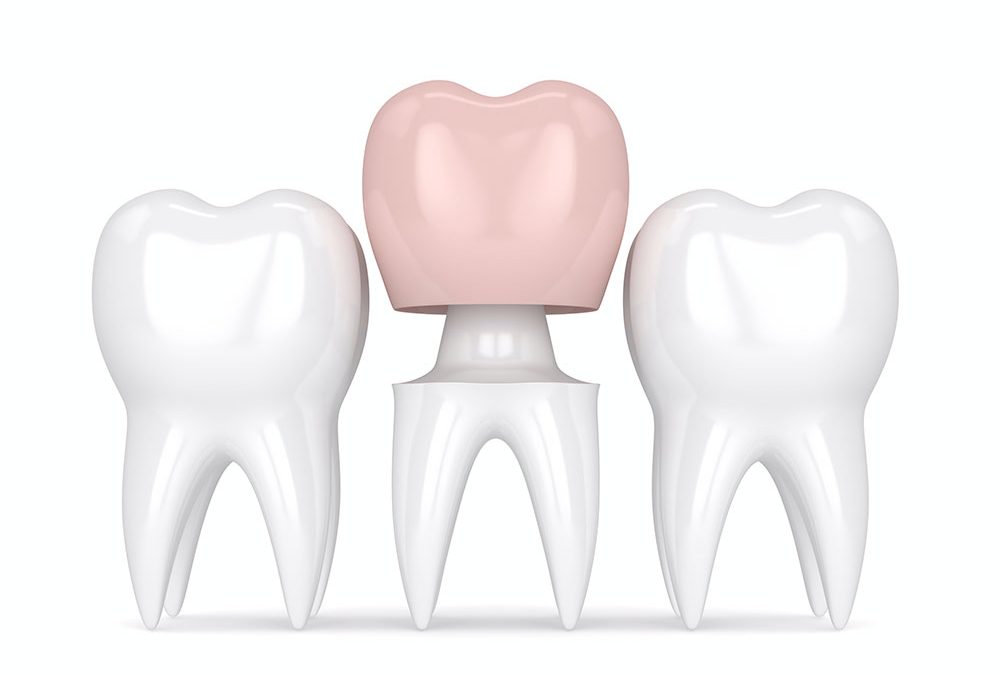 Dental crowns are common tooth restorations that provide full coverage and strength to a vulnerable tooth to prevent cracking, breaking and decay. Dental crowns are made in a dental lab specifically for your teeth and mouth to restore function and aesthetics to your bite.
Dental crowns can be used on their own for a single tooth or in conjunction with other teeth, called dental bridges. Your dentist may have recommended a crown for you, and you may be hesitant because you don't know why or don't quite understand the benefit. Below we have summarized the four main benefits of dental crowns and why you might need one. 
Improved Tooth Appearance
A dental crown covers all surfaces of a tooth so it can completely change the appearance of that tooth. Dental crowns are customizable and created specifically for your mouth, so the shade, shape and size are all up to you and your dentist based on what will look best. Dental crowns can be used to fix peg-shaped teeth, internal staining or discolouration and teeth with mild-moderate wear. For a complete smile makeover, your dentist may suggest several crowns to create a commeasurable appearance. 
Provides Stability & Strength
Teeth with large existing dental fillings that are breaking down and even teeth with chips and fractures can benefit from a dental crown. Because a crown covers and protects the entire tooth structure, it acts as a shield for the tooth and offers structural support. When a tooth is prepared for the crown, all existing filling material and decayed tooth structure are removed, leaving only a healthy tooth structure for the dental crown to bond to. 
Dental Crowns Are Long-lasting 
Dental crowns are one of the longest-lasting tooth restoration types. Your dentist will never call a dental crown "permanent," but if properly cared for and kept clean, it can last ten years or more easily. Still, dental crowns have the possibility of developing cavities around the margins at the gum line, so be sure to take excellent care of your oral health with routine brushing and flossing. Also, make sure to see your dentist regularly for checkups and cleanings. 
Prevents The Need For A Tooth Extraction
A dental crown provides another option to save a tooth if a cavity is large or if a filling is failing before there is no option but to extract. This is particularly important for teeth that have received a root canal treatment. These teeth are fragile and prone to breaking, so a dental crown is essential in saving the tooth. Also, metal crowns are often used for baby teeth when there are large fillings to prevent the premature loss of the baby teeth before the adult teeth erupt. 
If you have any questions about dental crowns, please contact us today to schedule a visit.